Our research team is here for you! We are committed to finding accurate diagnosis, advanced treatments and new discoveries in the bleeding and clotting disorders community. Our research coordinator, physicians, nurse practitioners and laboratory staff are heavily involved in bringing the best research programs to BCDI and work to educate the patient population about the programs we participate in.
BCDI partners with a variety of pharmaceutical companies to bring national and international clinical trials to our local bleeding disorders community. This allows our patients to receive cutting edge treatments while staying in the comfort of their own area.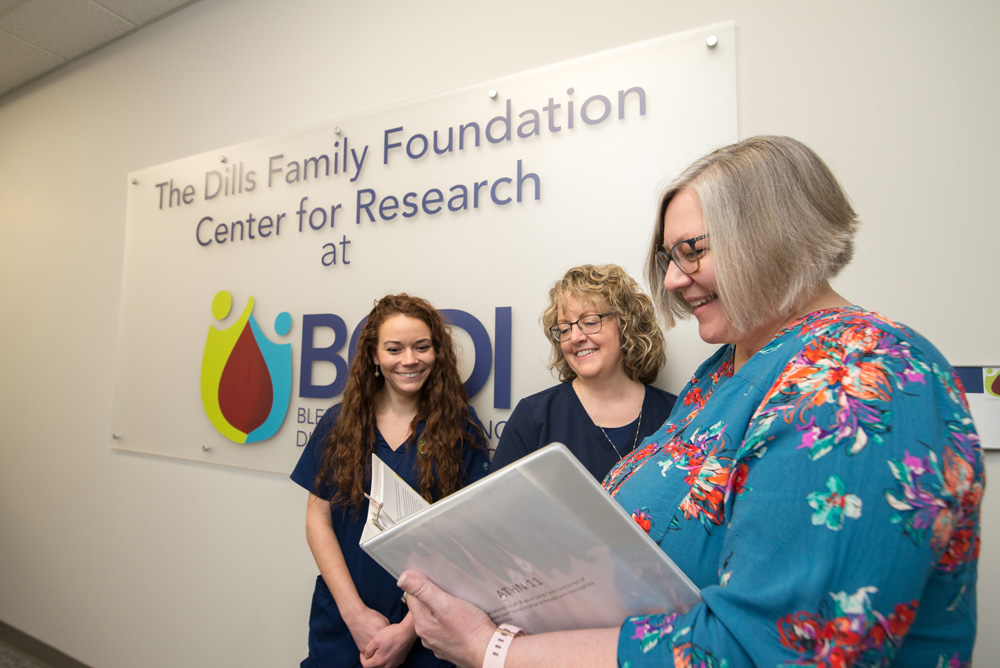 The Dills Family Foundation Center for Research
BCDI has a state-of-the-art research center in Peoria, called the Dills Family Foundation Center for Research at BCDI. Inspired by a family member's health challenge, Patrick and Denise Dills made a significant donation to BCDI in 2021. That donation helped launch the Dills Family Foundation Center for Research at BCDI.
To date, the donation has provided updated equipment for the BCDI Research Laboratory and helped to fund a Summer Research Scholars program at BCDI. We are forever grateful for the generosity of, and partnership with, the Dills family in our mission to improve the lives of people with bleeding and clotting disorders.
Clinical Trials
The newest and most effective treatments are often only available through clinical research trials. The ability to participate in clinical trials is beneficial for not only the patient, but also for future patients within the bleeding and clotting disorders community.
To see a full list of active clinical trials and to find out how you can participate, click here.
Studies
The physicians at BCDI also develop investigator-initiated studies of their own design to answer clinical questions that arise from their own clinical experiences. These answers are then shared with the bleeding disorder community through publication of papers and reports in national and international bleeding disorder journals.
Data Collection
BCDI also invests and participates in data collection studies. A data collection study gathers clinical data on bleeding disorder patients and this data helps physicians both at BCDI and throughout the nation to develop best practices for the treatment of bleeding disorder patients.