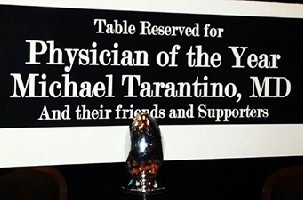 Dr. Tarantino was awarded the highest honor in the bleeding disorders community, The 2012 Physician of the Year!
His signal contributions in the hemophilia community were the selection criteria that earned him this highest honor.
Dr. Tarantino's contributions include:
Over 75 peer-reviewed publications
His role as lead investigator for the first fully synthetic blood factor product – Advate
His appointment to the Medical & Scientific Advisory Council (MASAC)
Chair of the Ethics Advisory Committee of NHF
Service on various sub committees around the world that shape the care for the bleeding disorders community
On-going commitment to research and advocacy combined
Congratulations Dr. Tarantino!