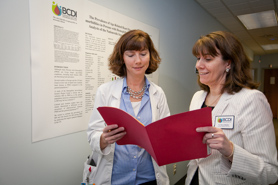 Dana Stephens, RN, MS, CPNP, has been selected to serve as a member of the American Nurses Credentialing Center's (ANCC) Logical Job Analysis I for the Hemostasis Nurse Specialty.
The panel is comprised of a select group of nurse experts from across the country, whom are tasked with the development of the specialty's ANCC certification examination. The Hemostasis Nurse Specialty (HNS) certification should be launched in the Fall.
BCDI is proud of the work Dana does at the Bleeding & Clotting Disorders Institute to contribute to the integrated care of our patients and that her expertise has been nationally recognized, as well.
Congratulations, Dana!