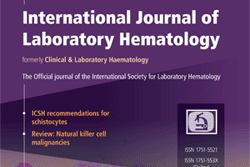 Dr. Jonathan Roberts is the Assistant Research Director and newest physician at the Bleeding & Clotting Disorders Institute. He is Board Certified in Pediatric Hematology/Oncology/Blood Marrow Transplant. Dr. Roberts is also an Assistant Professor of Pediatrics at the University of Illinois College of Medicine at Peoria.
Dr. Roberts collaborated with Veronica Flood, MD, from the Comprehensive Center for Bleeding Disorders of Wisconsin to compose a Laboratory diagnosis of von Willebrand Disease. The article is published in the International Journal of Laboratory Hematology*. Read the review here
Dr. Roberts has been acknowledged for his research on bleeding disorders by the American Society of Hematology, International Society on Thrombosis and Haemostasis, National Hemophilia Foundation and the National Institutes of Health.
His research areas of interest are advancing novel laboratory assay development to improve the diagnosis of von Willebrand Disease and to enhance individualized clinical management of hemophilia.
*International Journal of Laboratory Hematology; Special Issue: International Society for Laboratory Haematology 2015 Education Issue; Volume 37, Issue Supplement S1, pages 11-17, May 2015.