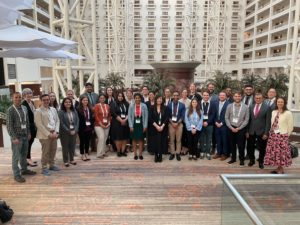 BCDI Founder, Chief Medical Officer and Chief Executive Officer Dr. Michael Tarantino, MD, spent March 8 and March 9 in Orlando, Florida, at the Hemostasis and Thrombosis Research Society (HTRS) Trainee Workshop providing guidance and education to the next generation of hopeful hematologists.
This years' workshop was entitled: "Building a Career in Hemostasis and Thrombosis." The scientific content and agenda for this workshop was designed by the HTRS Trainee Workshop Planning Committee, comprising HTRS physician members specializing in hemostasis and thrombosis. Dr. Tarantino is the HTRS Trainee Workshop Planning Committee vice chairman.
"We rely on current residents and fellows to be the next generation," Dr. Tarantino said. "We are very fortunate that HTRS has made the effort and resources available to recruit educated individuals to come to these workshops to help lead them in to becoming classical hematologists."
The Trainee Workshop was a mix of case presentations of interactive presentations by faculty, small group breakout sessions and opportunities for networking and mentoring.
"This was really focused on the sustainability of classical hematology," Dr. Tarantino said. "This workshop helps give trainees an idea of the day-to-day operations of a hematologist. Our panel discussions provided practical information; chronicling the journey of moving up from residency then to a fellowship and then navigating the last part of your fellowship to becoming a practicing hematologist."
Dr. Tarantino helped lead discussion during two different segments of the HTRS Trainee Workshop. One talk titled "Wait Up HTRS," was focused on Immune thrombocytopenia (ITP), a not uncommon bleeding disorder characterized by a low number of platelets in the blood. Dr. Tarantino is one of the most respected voices in the ITP community worldwide, having authored or co-authored over 125 peer-reviewed papers, reviews and book chapters, many of which focus on ITP research. During the breakout session that Dr. Tarantino hosted, discussion focused on pediatric care in the hemostasis and thrombosis community.
To learn more about the Hemostasis and Thrombosis Research Society and their Trainee Workshops, please visit www.htrs.org.