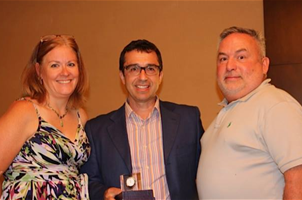 Dr. Tarantino was presented the "Walk in Our Shoes Award for Outstanding Healthcare Service Contribution" on Sunday, August 23rd from the Bleeding Disorders Alliance of Illinois.
During the award ceremony in Chicago, Mona Towner, BDAI Board President, stated, "If we did not have dedicated, caring and knowledgeable healthcare providers, the bleeding disorders community would be nowhere. We are pleased to honor Dr. Michael Tarantino with this award."
Way to go Dr. Tarantino!