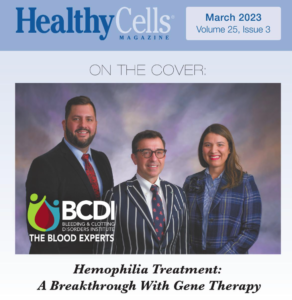 March is an important time at BCDI, celebrating and raising awareness for Bleeding Disorders Awareness Month. One of BCDI's mission goals is to provide top-tier education and research for our community. In regard to innovation and the future of the Hemophilia Treatment Center model, one topic has the entire community buzzing: gene therapy.
Gene therapy for hemophilia patients has been on the horizon for more than two decades, and major scientific and medical developments have led to a gene therapy product for hemophilia officially hitting the market.
Published in the March edition of Healthy Cells Magazine, we take a closer look at what gene therapy is, who may benefit from gene therapy, along with other thoughts and concerns.