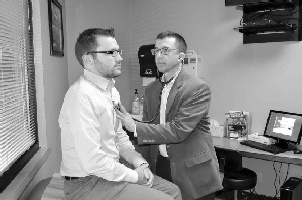 Hope for Hemophilia Patients
Under the care and supervision of Michael D. Tarantino, MD, Medical Director and Founder of BCDI, who started the practice on April 5,2010, and Renee Madden, MD, Assistant Medical Director at BCDI, patients are in good hands. Dr. Tarantino is an award-winning, nation-ally recognized hematologist whose efforts to combat hemophilia, ITP and other blood disorders have led to the advancement of research on behalf of patients living with these diseases.
Hemophilia is an inherited bleeding disorder caused by a deficiency in a protein that causes blood to clot. "Most often hemophilia causes a severe bleeding disorder, where bleeding into the joints, muscles,or body organs, sometimes with no apparent injury, is common. Less often, mild cases of hemophilia cause prolonged bleeding, usually with surgery or major injuries," says Dr. Tarantino.
Dr. Tarantino has been "instrumental" in making strides with hemophilia, according to Kollet Koulianos, MBA, business administrator with BCDI. His signal contributions to the hemophilia community include his role as a lead investigator for the clinical development of the first fully synthetic blood factor product. "This is the number one product we use today to treat and prevent bleeding in hemophilia," says Kollet.
His appointment to the Medical & Scientific Advisory Council (MASAC) of the National Hemophilia Foundation (NHF), and his position as Chair of the Ethics Advisory Committee for the NHF speak to his dedication to deliver only the best in patient care. Dr. Tarantino was recognized by the NHF this past year for these and many contributions to the hemophilia community over the past 23 years with the prestigious Kenneth Brinkhous Physician of the Year Award.
"This distinguished award is the highest honor in the bleeding disorders community,"according to Kollet, adding that Dr. Tarantino's notable accomplishments with hemophilia have boosted BCDI's reputation nationwide. "BCDI is one of 140 federally recognized Hemophilia Treatment Centers of Excellence in the country.
"The inception of Hemophilia Treatment Centers of Excellence took place after some clotting factor concentrates became contaminated with HIV in the late1970s to mid1980s, causing many people with bleeding disorders to be infected with the Human Immunodeficiency Virus (HIV). As a result, the Maternal and Child Health Bureau and Centers for Disease Control and Prevention (CDC) set up programs to administer and monitor the safety of clotting treatment through Comprehensive Care Clinics.
Reaping the Benefits of Comprehensive Care
Patients who have been diagnosed with hemophilia or other bleeding disorders benefit from comprehensive care at BCDI. BCDI's Comprehensive Care Model is a proven and effective health care treatment approach, with a focus on caring for the whole patient—not just their diseases.
According to Dr. Tarantino, "Our multidisciplinary team comprises professionals who are experts in bleeding, clotting, and blood-related disorders. Our team includes hematologists, nurse coordinators,a nurse practitioner, a medical social worker, a physical therapist, a dentist, a registered dietitian, a women's health specialist, a research coordinator, and an outreach/education coordinator. Integrated management between the comprehensive care team results in the best possible patient outcomes.
"Comprehensive care emphasizes early diagnosis and intervention when necessary to prevent complications; patient and family-centered education, in addition to the education of school nurses and day care providers helps to empower patients to take control of their bleeding disorder.
"At BCDI, we are firm believers that the more educated and empowered patients are the better they can take care of themselves," says Dr. Tarantino.Patients receive training for home and self-infusions. "We have nine-and ten-year-old patients who can do their own intravenous infusions. This keeps them in school and in sports so they have a better quality of life."
Comprehensive Care & ITP
According to Kollet, Dr. Tarantino, in collaboration with Dr. Greg Gerstner of Illinois Cancer Care, is taking steps to apply the comprehensive care model of hemophilia to patients with idiopathic thrombocytopenic purpura (ITP). ITP is an acquired blood disorder that causes easy or excessive bruising and bleeding because of unusually low levels of platelets, the cells that help to start the blood clotting process. The disease can affect both males and females, children and adults. Says Kollet: "Dr. Tarantino and Dr. Gerstner understand that because chronic ITP sufferers have similar issues as hemophilia patients, both groups would benefit from a comprehensive care clinic."
Drs. Tarantino and Gerstner will lead the way to the first ITP comprehensive care clinic in the country. The clinic is also the first clinic of its kind in the nation to apply the comprehensive care model for hemophilia patients to ITP patients.
Dr. Tarantino strives to stay on the cutting edge of ITP research and treatment. For the past several years, he has been involved in treatments that increase platelet production in persons with ITP. Dr. Tarantino was recently selected as the lead investigator on an inter-national study to help children with ITP, by giving them a synthetic platelet growth factor. Dr. Tarantino is currently conducting a trial to test whether an important drug will benefit children with ITP. BCDI is the only center to conduct this study.
"We don't want to be bystanders in research and advocacy," says Dr. Tarantino. "We want to be a part of everything moving forward to ensure the best care for our patients."
For more information on Bleeding & Clotting Disorders Institute,visit www.ilbcdi.org or call (309) 692-5337 or toll free at (877) 335-2234.Office hours are from 8 a.m.-4 p.m. Monday through Friday. BCDI is located at 9128 N Lindbergh Drive in Peoria, IL 61615.
Michael D. Tarantino, MD, completed his residency in pediatrics at the University of Arizona Health Sciences Center in 1990 and a fellow- ship in Pediatric Hematology/Oncology at the University of Wisconsin in 1993. He is board-certified in Pediatric Hematology/Oncology and brings over 20 years of experience caring for children and adults with bleeding and clotting disorders.