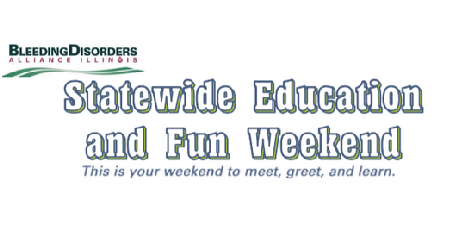 Who: Bleeding disorder patients and their families
When: 10 AM Saturday, April 9th – 12 PM Sunday, April 10th
Where: Pere Marquette
501 Main St. Peoria IL, 61602
We are pleased to invite you to this year's Statewide Education & Fun Weekend Program where we will be celebrating the theme 'Welcoming ALL Bleeding Disorders.' We have planned a full array of programs and presentations to arm you and your family with quality information, as well as a special event for Saturday night – which will give families and individuals time to reflect, remember and celebrate the Bleeding Disorders Community. We will be hosting some of the best educators and speakers in the state, and all breakout sessions aim to provide you with the necessary information to continue to receive top of the line treatment and care.
As in years past, BDAI will cover the cost of the hotel room for Saturday, April 9th as follows:
Under 26 with a bleeding disorder still living at home – you and your immediate family* only
Over 26 with a bleeding disorder living in your parental home or on your own – you and your significant other and children
*For the purposes of this meeting immediate family consists of your parents, siblings and any of your own children
For any additional guests attending, you will be asked to pay $25.00 per person per night for the hotel and $25.00 per person per day for food, payable when submitting your registration form. If the distance of your travel makes it difficult for you to arrive by the start of the program on Saturday (more than 150 miles one way), we do have rooms available for Friday evening (April 8th). Space is limited and these are on a first come, first serve basis. There is a space to indicate this request on the registration form.
DO NOT make reservations directly with the hotel. Simply complete the registration form and we will make the arrangements for you. One week before the event we will send a confirmation of your registration to be used upon check-in at the hotel. If you choose to extend your stay before arriving Saturday or staying after Sunday, please indicate this on your form and be aware you will be responsible for paying these additional charges. Each room will need to provide a credit card to the hotel for any incidental charges. Remember, we will pay for your Saturday night stay only, unless you are approved ahead of time for Friday night.
Non-Refundable Fee: There is a $50.00 fee required per family. This is for a family of up to 4 members. Larger families who will need larger accommodations (5-8 people) are asked to pay an $80.00 fee. Families with greater than 8 members attending will be responsible for a $125.00 fee. This must be included with your registration and is required for a reservation to be made.
There will be a very limited subsidy fund of $50.00 per family available on a first come, first serve basis. If this $50.00 subsidy is being applied towards the larger families, you are still responsible for the remaining fees. For example, if 8 members of your immediate family are attending and you request a $50.00 subsidy, then you will be responsible for the additional $30.00 of the $80.00 fee. If you should need to cancel and do so before March 21st, we will return your fee. Any cancellations after this date are non-refundable. The hotel will make every effort to provide refrigerators to hotel guests who require them for medicine storage.You must request a refrigerator when registering for this event.
Registration: Due to the fee requirement, registrations will ONLY be accepted via mail or fax.
Note: There will be childcare available for children ages 3-11. Parents will be required to sign a waiver at registration. Programming will be also scheduled for teens ages 12-17.
Attire: Please dress casually and comfortably. There will not be any requirements at the events or the activities for any type of formal dress.
If you have any questions, please email Adam Hii or call at (312) 427-1495. Thanks, and we look forward to seeing you in April!